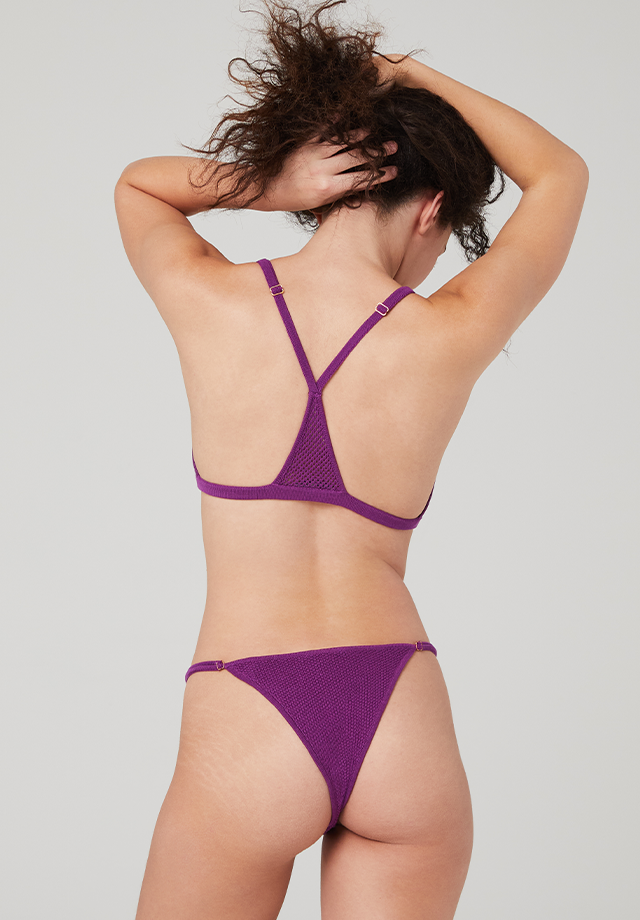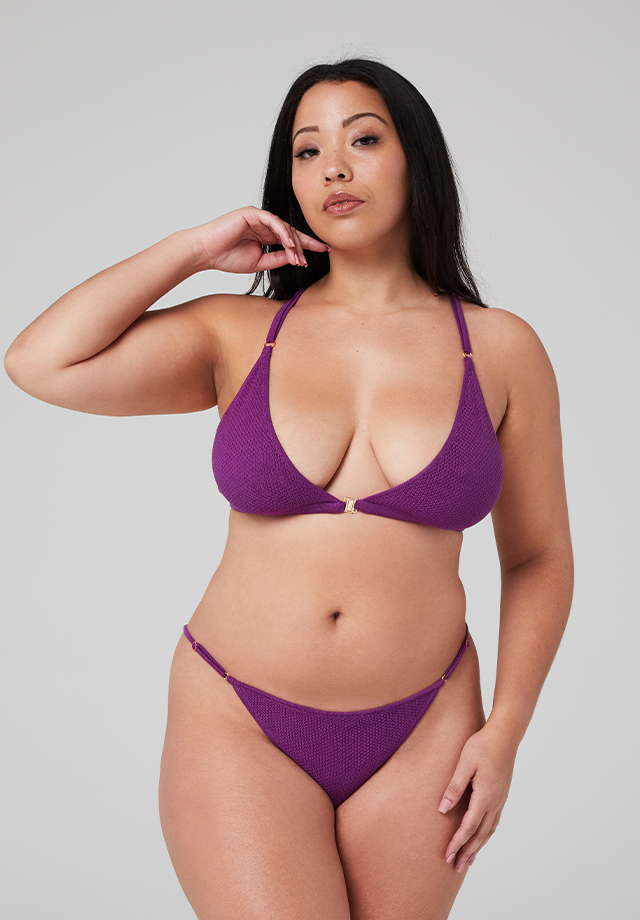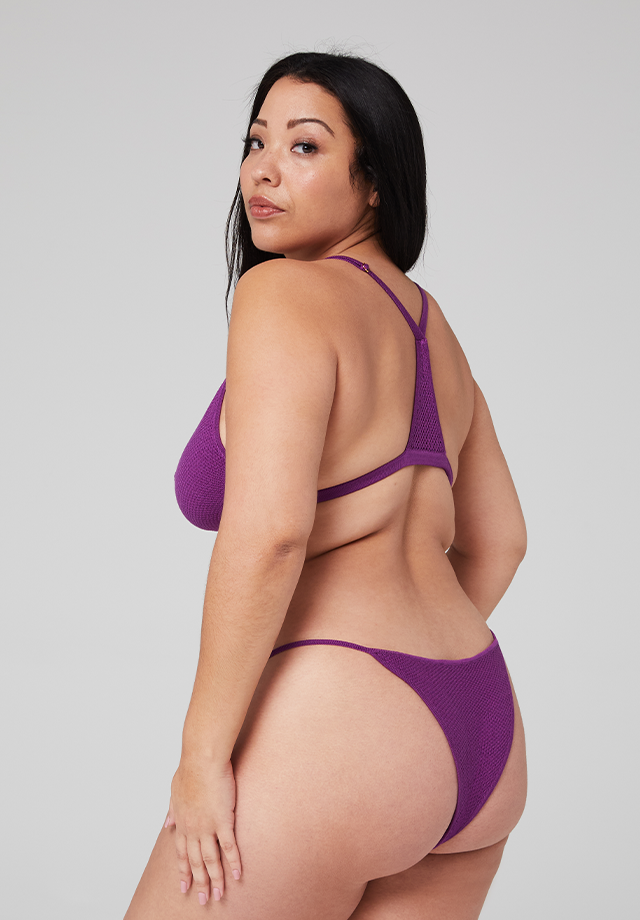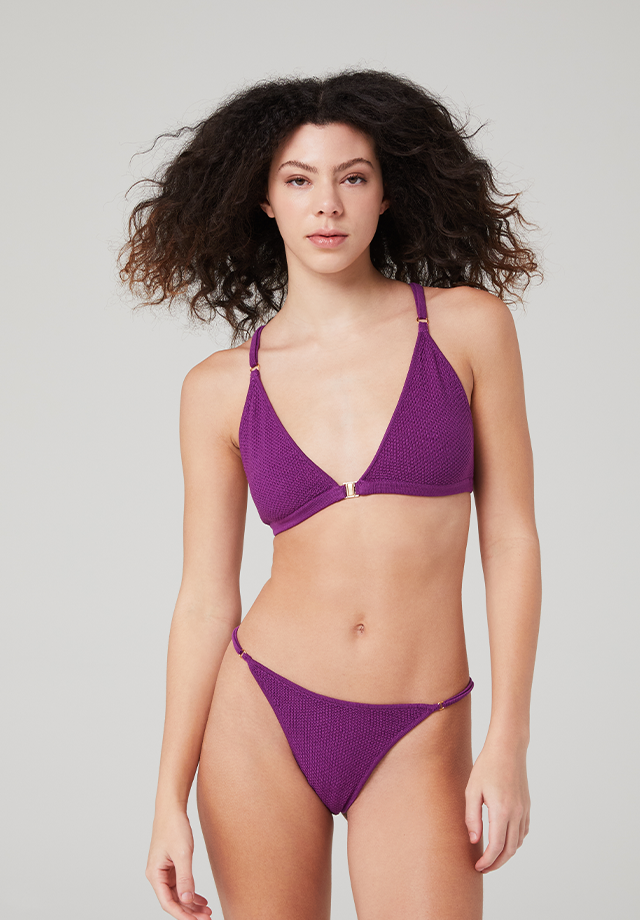 Merino Classic Bikini - wild lilac
---
Our Merino Bikini features a timeless cut that can be worn either high or low on the hips. Embrace full coverage in our distinctive seed stitch pattern. Designed for your comfort, the bikini comes with adjustable straps on the hips, ensuring a perfect and personalized fit.
Adjustable straps for a comfortable fit.

Can be worn above or below the waist.

A seamless fit.
70% Tencel 30% Merino Wool

Elastic waistband 70% Cotton 30% Natural Rubber

Machine wash delicate or hand wash cold. Do not bleach. Lay flat dry or tumble dry low.

Our superior fibers are naturally anti-microbial therefore can be washed in cold water or dry cleaned occasionally. This will also extend the life of your garment. Let's nurture nature.

Our proprietary blend of super soft merino wool and Tencel is temperature regulating, moisture wicking, and odor resistant and needs very little maintenance to stay fresh. Wear it year-round. Cooling in the summer. Warming in the winter. Zero waste and plastic free.
Free shipping on orders over $150.

Please review our pre-order policy in the description.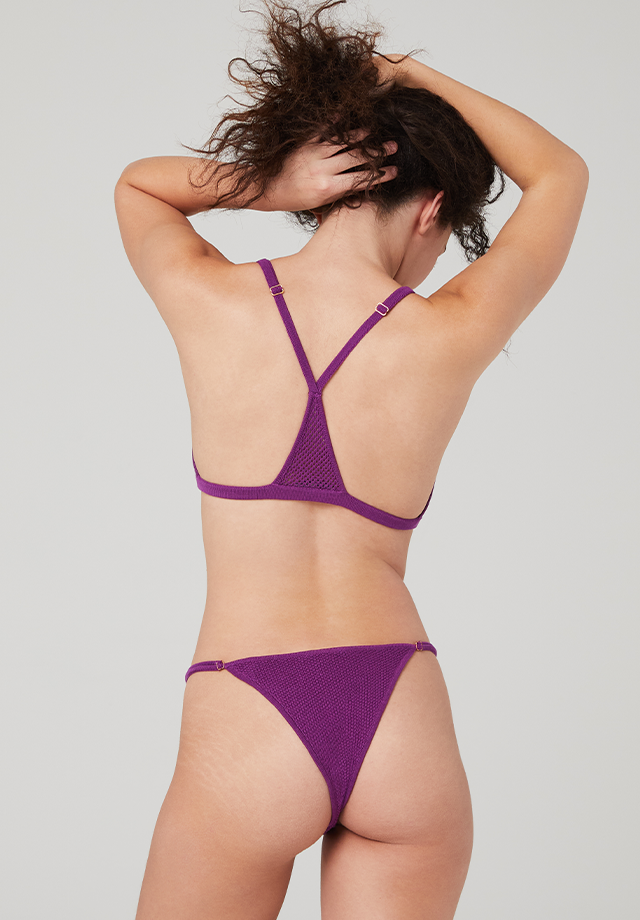 Soft to the touch, good for your body, and easy on the planet.   
BESIDES FOR IT FEELING LIKE SILK ON YOUR BODY...
Why Merino Wool?
Breathable
Wool fibers are naturally crimped, which create tiny pockets of air that allow for breathability. Lingerie that lets you breathe prevents irritation, chafing and discomfort. 
Antibacterial
Because of the crimped cellular structure of wool, and our fabrics combination with tencel, which is cooling and breathable, our fabric is self-cleaning, as bacteria is unable to grow on it.
Odor Resistant
Unlike synthetic fabrics, wool does not trap odors, but instead neutralizes them. This makes wool an ideal fabric for lingerie, as it helps keep the garment fresh and hygienic.
Temperature Regulating
Wool helps regulate body temperature. In cold weather, the fibers trap heat and keep the body warm. In warm weather, the fibers wick away moisture and keep the body cool.
COMPLETE THE LOOK
Create The Perfect Set
100%
Ethically & Sustainably Made
Wool sourced ethically. Knitting Process with zero waste. Only the best for you, and our planet.